Radically improve your regulatory and compliance checks, mitigate risks and reduce your operational burden.
The Need for Integrity
We understand your long-held need for Integrity in your journey through an increasingly complex, risky and costly trade environment. And all while reducing operational pressures. 
That's why we built the Traydstream platform. It's made by banking and trade professionals who totally understand the reputational risk management of your compliance and checking work. It helps you increase the rigour and quality of your checking work, allowing you to increase your client offering. 
Helping Your Team 
Your current operational burdens can stem from growing complexity, client pressures, resourcing stresses, skill levels, and internal knowhow - we understand - we're banking people too.  
So our platform provides your team with ever-improving automation, dramatically speeding their processing, boosting their accuracy and adding hefty rigour to their work.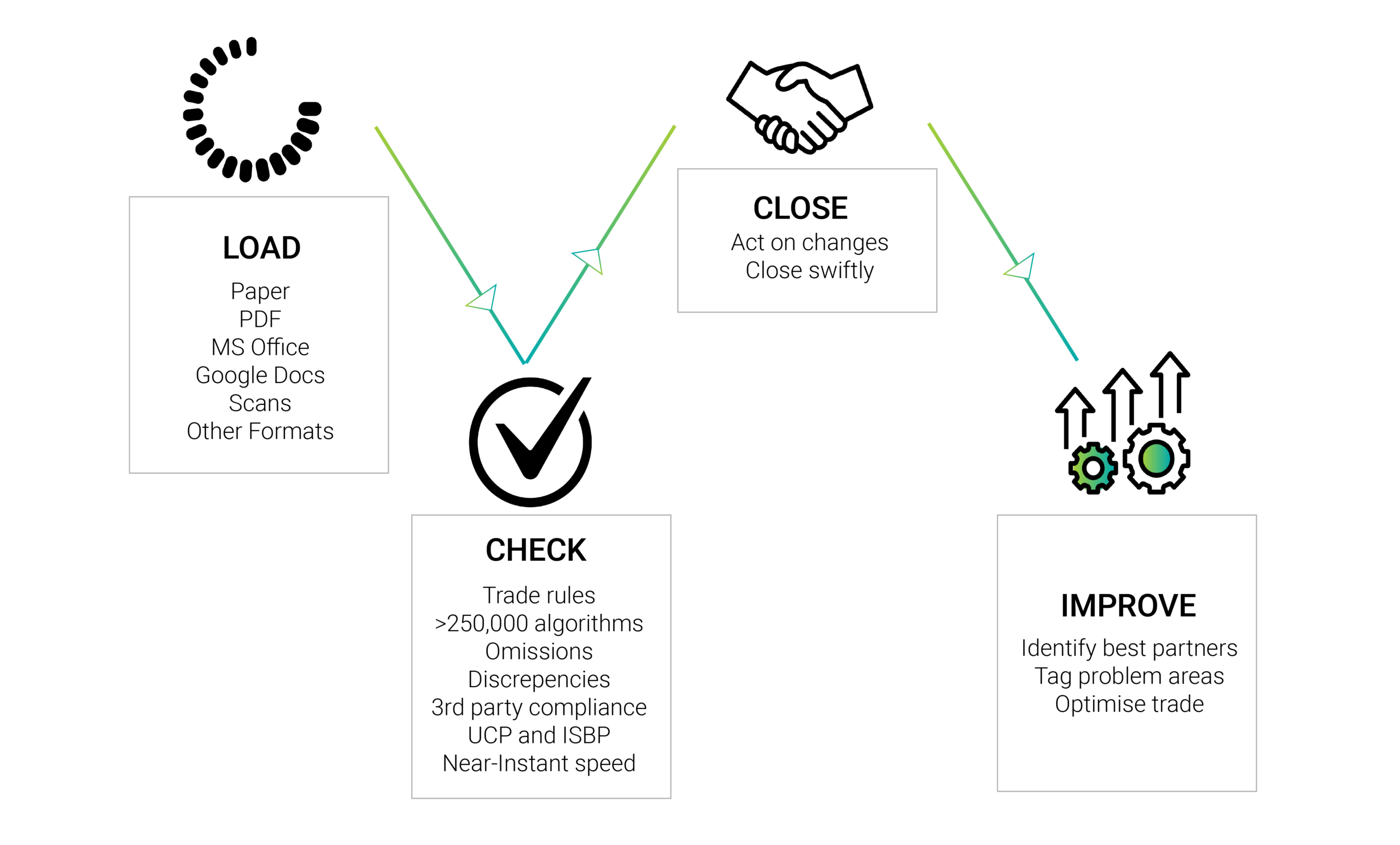 Whether you're on the board or in day to day operations, you'll be aware of advances in technology: the promise of automation, the speed, and the cost savings. Yet at the same time you may be cautious about trying new systems, or choosing which technology to use - should you go with Digitisers, reg tech, compliance or risk platforms?  
That's why we focused on solving the biggest trade documentation problems: 
Protracted timescales:

drastically reduced

 

Iterative processing:

halted

 

Inaccuracies:

prevented

 

Requirements ambiguity:

ended

 

Repetition:

comprehensively cut

 

Compliance uncertainty:

resolved

 

Bank and forms discrepancies:

settled

 
That's why we built our team from experienced trade professionals and bankers: there's no other way to create easy solutions to the deep problems of compliance, complexity and inconsistency. 
But it's also why we got the banks on-board fast, and that translates directly into smooth seamless processing for you. 
Intelligent Platform
Our platform offers two kinds of deployment - work directly with our global cloud, or use a country-specific cloud, for remote or office access.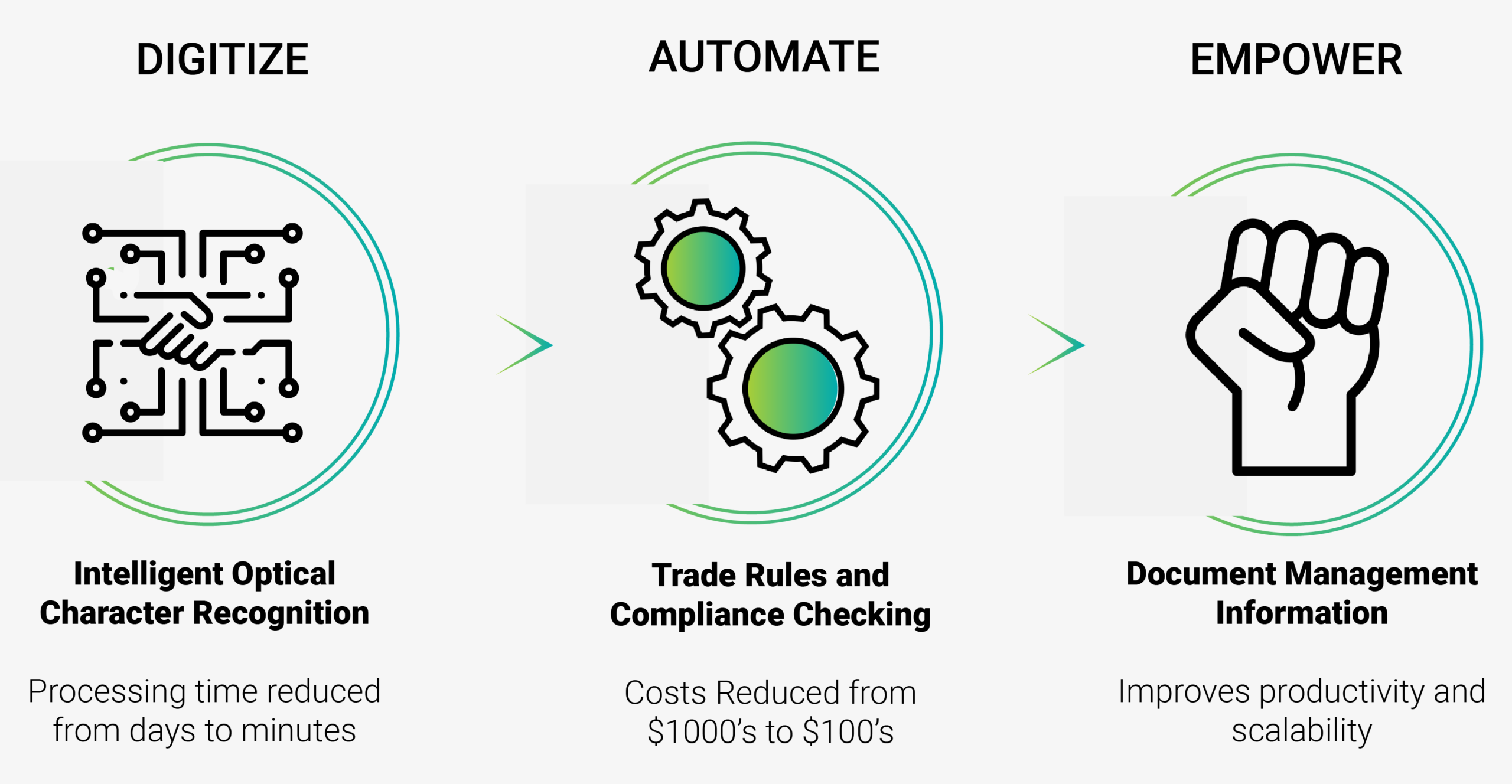 The process speeds-up your documents scrutiny through a number of important steps: 
Digitises all document types

:

Virtually all documents used in shipping, including

Bills of Exchange, Invoices, Bills of Lading

and much more, turning them into structured information. We created a specialised OCR engine and we use human-supervised machine learning to extract all the relevant attributes from the LC and associated documents.

Rules checks

: Scrutinises all the data in the LC and other documentation including all UCP 600 / ISBP rules. That's well over a

quarter of million permutations in our ICC rules engine.

 

Compliance checks:

This includes

sanctions screening, Dual Use of Goods and vessel tracking is available through API integrations.

You can also create tailored checks to your own internal policies and rules.

 

Insight:

A deeper understanding of

your operational efficiency and transactional business trends,

is now possible using the analysis of your clean structured data.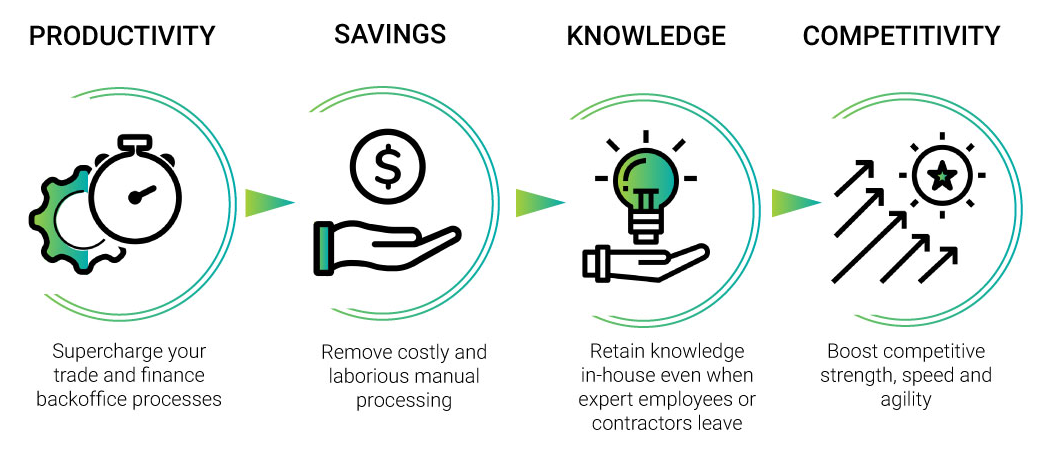 Our technology will help your bank transform into the service business it was always meant to be - an efficient provider, efficiently upholding regulation, helping clients trade freely and imaginatively on the world stage. Specifically: 
Huge gain in speed and operational efficiency

- cutting document checking time from hours to seconds

 
Mitigate compliance risks

- in document management, especially in error management - which dramatically improves compliance and protects reputation

 

Cut processing costs

- considerable cost savings over human processing fees,

up

to

a 60-70% potential cost reduction

 

Huge trading insight

- become more data-rich, learning a wiser approach to client management and where your biggest risks and hidden costs lie

 

Provide service for new territories easily

- automatically acquire the ability to provide checking and compliance in unfamiliar territories without associated recruitment, training or staff overheads

 

Lock in banking knowhow

- gathering trade rules knowhow into one place, thus ending the brain-drain that occurs every time an expert employee leaves the bank  taking with them that knowledge 

 
Be ready for blockchain

- when your exporters or importers need blockchain documentation