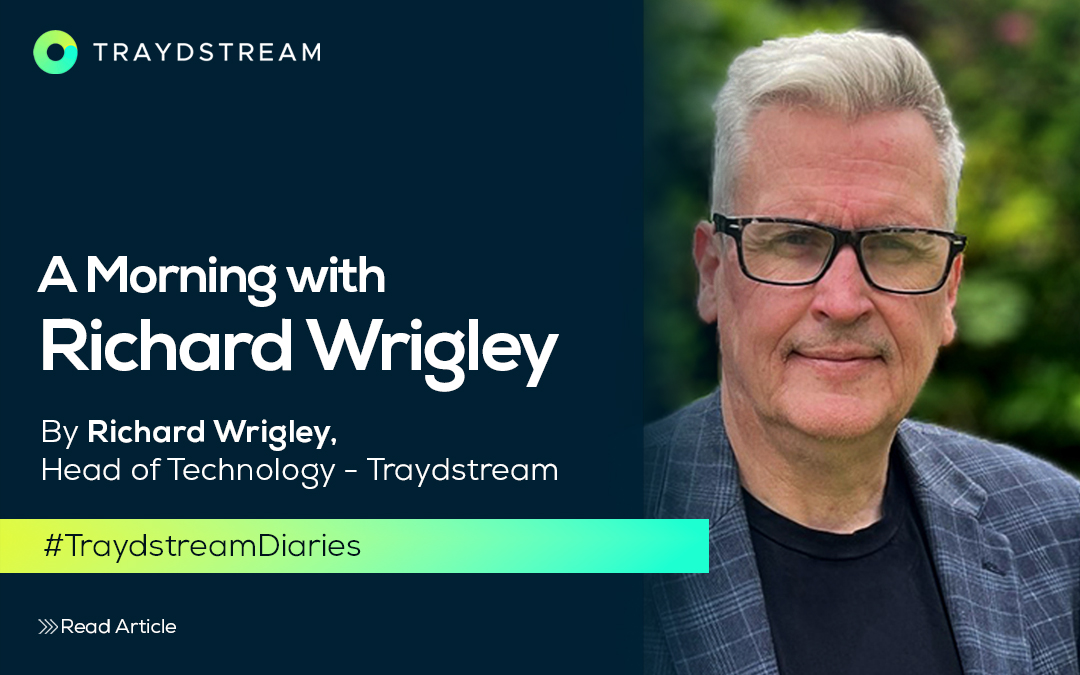 Its 7:00 am and my annoying Apple alarm has yet again started to sing loudly into my ear, even from under the pillow where I secreted it five minutes ago. My key task for the day is to write this blog for our marketing department. Maybe explaining the reason for my early start is a good segue into describing the global organization I joined almost 2 years ago. 
My first call is about to kick off, it's a quick daily standup with our Quality Assurance Team. Mindful of the fact that the majority of this team are based in various cities across India and Pakistan, and that they've been at it for at least a few hours – my routine involves an early start.  
I am based in Manchester, UK and like much of our team I work remotely – it's a well-integrated facet of Traydstream's work culture. (I have specific thoughts on this – we'll touch back on it later.)  
As I launch Microsoft Teams to begin my calls, I linger on the names of my colleagues – a bemused smile on my face. I recognize these names and can attach fun facts to the people on the other side. I recall engaging banter with the people I connect with. It is nice to have bants with the people we work with on a daily basis.  
I now have many work friends at Traydstream – most of whom I initially only knew through Microsoft Teams. As an organisation, we've all recognized that it is necessary to take the time on video to compensate for the missing water cooler and break room chats to maintain rapport and friendliness between us. We spend so many hours a day working together, but apart, work can be far more difficult.   
I'm laughing to myself as I log on, thinking about the recent games night that we had – where we did general trivia, and how I was taken to task on my cricket knowledge. Maybe I don't know as much about it as I like to think I do.  
I must, however, say that face-to-face time is still essential. And Traydstream has conducted a few offsites in Dubai, which have been great opportunities to meet the global team in person, exchange ideas, and create lasting memories. These sorts of events tide us over, and anticipating the next one always gives us something to look forward to.  
I have heard differing reviews from my friends in other tech organisations about the challenges of working from home – I personally find it very convenient, and I think it is something that Traydstream has managed to embrace as part of its company culture. 
I am an enthusiastic world traveler, it's a tenuous link I know, but when the opportunity came up to work on technology solutions for international trade, I was very interested to get involved. I have spent the last 20+ years managing Equity Derivatives systems for a couple of US Investment Banks, so the chance to learn about a different domain has been a new adventure for me.  
My experience is that the most successful technologists need to be polymaths, obviously you need to be competent and skilled technology-wise, but beyond that – a curiosity and openness to learn and embrace the domain you are working in gives a great advantage. 
It's mid-morning and I have just come out of the Daily Sprint Standup. We are currently grooming a set of requirements for a new add-on to the Traydstream product, its working codename is 'Connect' but I am sure that might change when it comes to market. This product will allow two Traydstream users to connect their workflows and share processing effort. This is a cool upgrade for our clients and customers, and we are always keeping the product evolving.  
It's always interesting for me to sit in on these standups and listen in to our Trade Finance Product experts working hand-in-hand with our development and QA teams. … It's the polymath thing again, it's great to see we have strong developers who can challenge, question, and suggest how things should work; I even get to throw in a few questions and ideas.