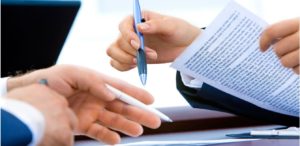 The goal: Reimagine the paper-based processes that underpin trade finance using AI.
Who we are: We have a diverse group of people around the world from seasoned veterans with 20+ years' experience in Finance and Technology alongside associates who are just starting out and exploring the FinTech space. Our diverse backgrounds, competencies and knowledge are some of the reasons why we work so well. We aim to grow together as a team and a company, not just as individuals.
What we do: Traydstream's unique AI-powered products reduce the costs, complexities and timescales of trade finance processing for banks and large corporations. Our scalable platform uses proprietary Optical Character Recognition (OCR) technology to accurately digitize documents into a readable format and then applies machine learning algorithms to scrutinize for compliance with international, domestic and client-specific trading rules and regulations.
Title: Document Checker (Manager) – Mumbai, India
Who are we're looking for: We're looking an experienced Trade Document Specialist who will be part of a passionate trade and IT teams based in Mumbai. Traydstream isn't just one of the world's leading rules and compliance engines for trade finance – it's a family of hard-working professionals dedicated to making a difference in the world of finance, trade and technology. By producing high-quality and user-friendly platforms for a variety of industries, we help organizations accelerate their capabilities across borders.
A truly cross functional role, the successful candidate will be able to integrate their breadth and depth of knowledge in trade finance and identify opportunities to enhance the intelligence of our technology platform. Your ability to improve the client's pilot experience and continuously improve the Traydstream platform could lead to the launch pad for your fintech career. You will work alongside a team of 30 product team members and 30 technology team members and expected to continually develop and master new skills. With the help from our leadership team and subject matter experts, you will have the guidance and resources required to succeed and grow within the organization.
Responsibilities
 Provide world class client servicing to our clients
Create BRDs for our technology teams including feature development or functional enhancement to the Traydstream platform
Manage expectations and communication lines between internal and external stakeholders
Design and implement solutions to continuously improve TAT, Accuracy and all productivity related KPIs as provided by the Chief Product Officer
Test the Traydstream platform for new features or modified functions added to our products as per our client's expectations
Measure, monitor and record data related to our client's transaction efficiency or efficacy on the Traydstream platform
Research and propose creative ideas to address the root cause of functional platform problems
Implement solutions that improves the trade document processing times and quality of our client's transactions sets
Manage project and/or process deliverables and approvals by communicating cross functionally with the Chief Product Officer, Chief Technology Officer, Chief Revenue Officer & Head of Product.
Coach clients through pilots by initiating their trade transactions sets into the platform
Integrate the latest developments of trade into our platform engines
Incorporate trade documentation best practices for our trade officers and clients
Identify and combine trade finance processes and technologies to the Traydstream platform
Qualifications & Skills
5+ Years in Trade Transaction Processing
Undergraduate or Postgraduate Degree (BBA, BCOM, MBA or equivalent)
Certified Documentary Credit Specialist (CDCS)
Excellent Interpersonal skills including communication, client servicing, influence & negotiation
Superior Problem-Solving Ability
Strong Understanding of Data Collection & Analysis Techniques
Ability to multi-task in a fast-paced environment with fluctuating priorities and deadlines.
Ability to work without direct supervision, and efficiently manage tasks and time.
Proficiency in Microsoft Office Suite
Preferred Abilities
Involved in Automation / Digitization of Trade Processing
Understanding of Trade Finance
Basic Understanding of Technical Languages & Concepts i.e Java, Python, Machine Learning, Cloud Engineering
Proficiency in English.