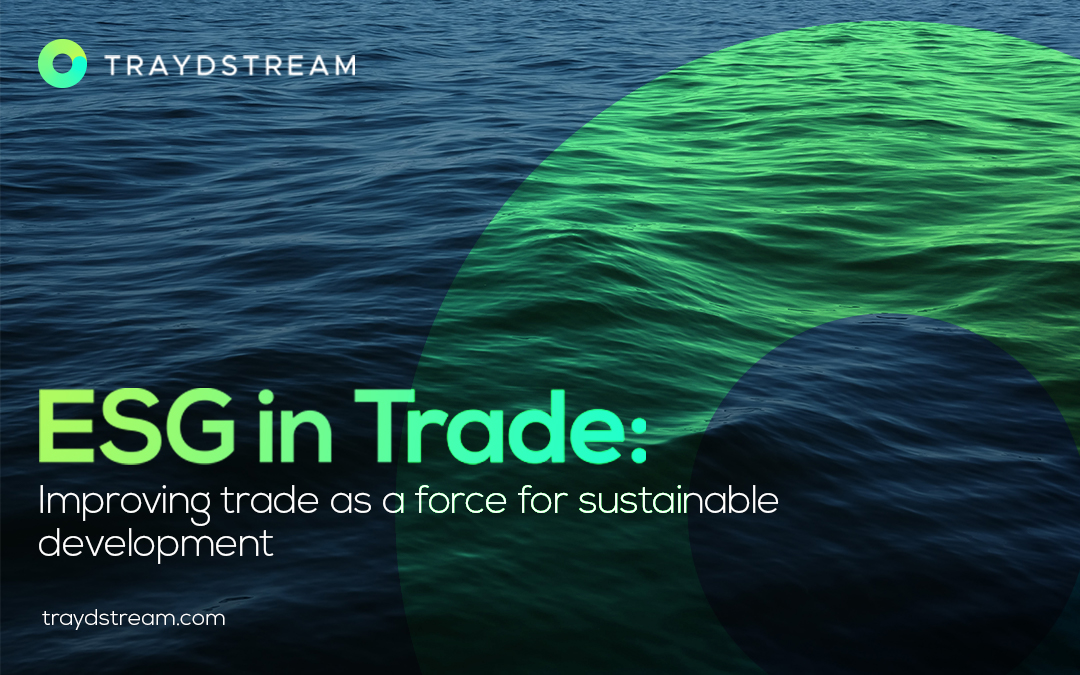 As the world continues to face climate challenges, along with a generally bearish macro-economic outlook and unstable geopolitical pressures – driving the ESG (Environmental, Social Governance) agenda is no longer a nice to have.
Stakeholders, policymakers, and many consumers worldwide are laser focused on adopting a more sustainable future.
International trade is considered an integral part and a driving force for promoting development sustainably. According to the UN Agenda for 2030, under World Trade Organization (WTO), international trade will be used as an engine for inclusive economic growth, contributing to sustainable development with a universal, open, transparent, inclusive, and rule-based multifaceted trade system.
The international trade finance industry is complex. Diverse participants across the supply chain and the lack of digitization and therefore automation, keeps the industry bound to legacy paper-driven processes to keep supply chains running and ultimately goods delivered. That's why the sustainability aspect of the trade finance industry is critical to our future as we see many banks and corporates now starting to adopt policies and actively take initiatives to support the ESG cause.
Unimaginably, it is assumed that traditionally, trade finance is responsible for the consumption of four billion pages and documents annually. Thus far, the lack of digitization has bound these processes to being stuck in time and bringing these systems into the 21st century can provide multiple benefits – not least a reduction in paper.
Traydstream is actively promoting sustainability by reducing the impact on the Earth of trade finance processing. We have created powerful technologies that rely on artificial intelligence (AI) and machine learning to mitigate risk as well as digitize and automate these paper-heavy processes, which simultaneously increases transparency and decreases human error.
Traydstream uses its cutting-edge technologies to ensure that trade processes are compliant, less error prone and totally transparent across the entire supply chain including all the maritime traffic and logistics. This visibility is revolutionizing trade in the way that creates new levels of trust to positively impact the industry.
Whilst the international trade community grapples with slow adoption of new techniques, a lack of use cases, and innovation in general, the need to act fast is becoming more apparent.  Traydstream has seen a recent surge in global demand for the platform, driven by several factors including the ESG agenda, a now proven track record (use cases), risk mitigation and the need to digitise.
Traydstream is focussed on playing its part to support the green agenda to make Trade processing digital, seamless and transparent. The immediate agenda is to reduce paper in order to stop the millions of trees that are felled every year – just for Trade documents.
Going further, the level of detail we extract for every transaction allows for ESG ratings at a truly granular level, which allows for securitisation and issuance of green bonds to promote a more sustainable planet.
#greentradefinance