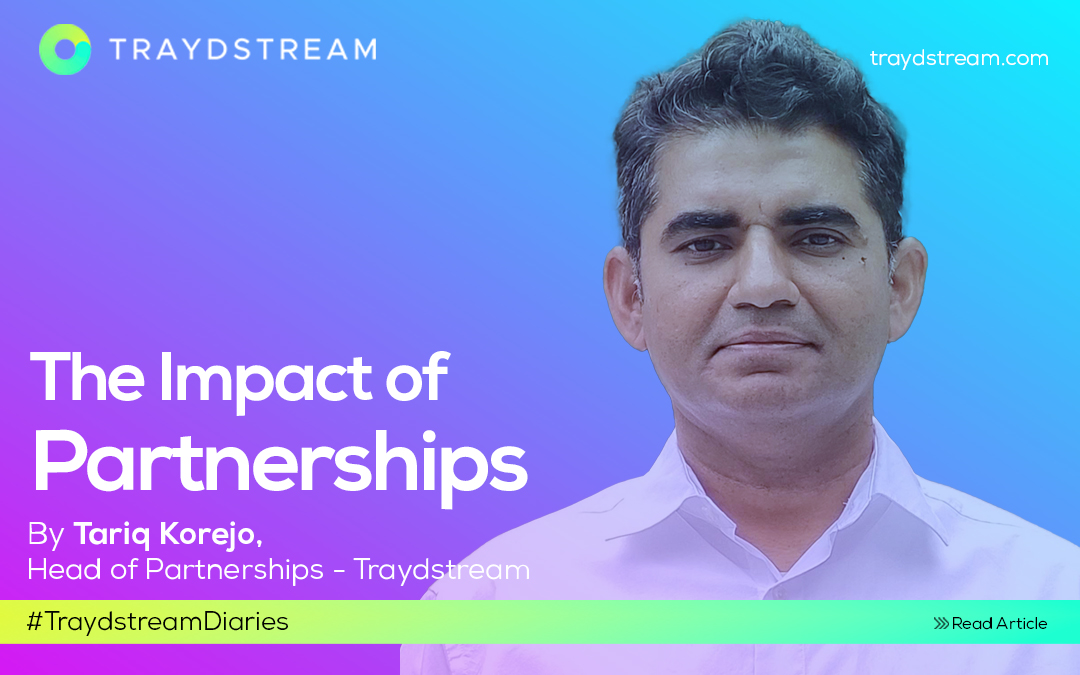 Tariq Korejo has a long history of working in banking innovation, including over 15 years at Citi, and he joined Traydstream in July 2021 as Head of Partnerships. 
New Possibilities 
What interested me about Traydstream is the belief that we are part of transformative change in a space that is still waiting for the full impact of the digital and platform economy to happen.  
Throughout my career, I had seen discussions within the trade industry move past the initial stages of automation and process improvement towards novel capabilities off the back of advanced tools enabling easier access to richer data set and analytics.  
A lot more is possible now that was simply unthinkable a decade back. 
One thing is for sure: there is a great openness to collaborate and it is going to be needed more and more. Both to create best in class solutions as well as seamless integration in a space like trade, which includes multiple stakeholders right from the time commercial terms are agreed to until the goods are dispatched and consumed. 
Integrating Partners 
My role at Traydstream is to lead the partnerships team. Our team's mandate is to build a wider ecosystem of partners that further enriches the overall trade solution suite for our clients and therefore multiply the value available through the one stop solution.. 
These partners include compliance providers, which are a key element of any trade finance processing activity. Some of whom we already work with include Refinitiv, Lloyds Intelligence and LexisNexis.  
Another stream of partners that we are working with include banking core trade system providers where through integration, we create an end-to-end, and importantly, a straight-through experience for our clients 
In developing our ecosystem, we have found three aspects of a good partner that can really fast forward a powerful integration: 
APIs – Having already developed and published a full set of solution APIs to enable flexible connectivity

 
Cloud – A cloud friendly version of their solution that is horizontally and vertically scalable

 
Client – A deep understanding not just of their product, but the challenges their clients are facing now and likely to in the coming future

 
Of course, it always helps to have a client be part of a partnership development because that allows us to learn by doing and come to the market with a proven, practical solution. 
Seeing the impact on the ground 
One of my other roles at Traydstream is to manage our franchise in Pakistan as Country CEO. Pakistan is one of our key markets for growth and 2022 has been a happening year already.  
Meezan Bank has gone live as the first client and we see promising times with our many other conversations. In addition to our doc examination solution, we have had keen interest from bank clients for the partnerships that we are developing. It is great to see the impact that we can make.  
It is also a huge bonus that there has been a keen interest from the central bank in getting processes to be digitalised. Since inception of our presence in Pakistan, we have experienced openness from regulator to discuss and explore new solutions which has been very encouraging.   
From decades of talk, we are witnessing new innovations come into reality.