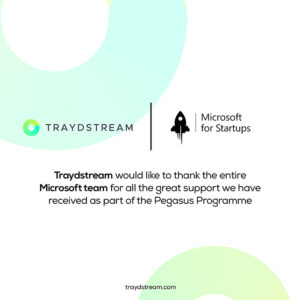 Microsoft for Startups is a select global program dedicated to accelerating the trajectory of high potential B2B start-ups to enable growth at scale. The tailored technical engagement brings the full potential of Microsoft Azure's scalability, security and global reach to the functionality of Traydstream platform.
Traydstream is a London-based FinTech, with global operations, that supports banking and corporate clients with the manual and error-prone pain points of end-to-end Trade Finance processing. Its platform utilises machine learning to extract, interpret and identify discrepancies within structured and unstructured clauses, against international UCP and ISBP trade rules, as well as checks for sanctions, compliance and vessel tracking through integrated partners.
Daniel Clayden, Traydstream's Chief Technical Officer, "Participating in the Microsoft for Startups Program will allow us to broaden and accelerate our engagement with Microsoft, lets us benefit from the very considerable technical support they offer, and gives us access to Microsoft's latest technology offerings, helping us further drive innovation for our clients".
In addition to creating a seamless technical and deployment experience for clients, Traydstream is part of the Microsoft co-sell platform, enabling joint client engagements and building on the existing Microsoft relationships to access new markets and bring the Traydstream platform's considerable efficiency and risk mitigation benefits to more businesses.