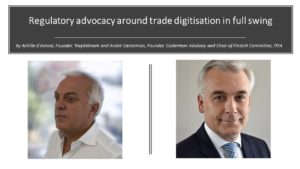 By Achille d'Antoni, Founder, Traydstream and André Casterman, Founder, Casterman Advisory and Chair of Fintech Committee, ITFA
COVID-19 has underlined the many obstacles for banks and corporates to process paper-based trade finance transactions. This has encouraged banks to heighten efforts around trade digitisation. Whereas "digital trade" innovations were traditionally handled by banks quite reactively and opportunistically to address large corporate needs (e.g., supply chain finance, multi-bank standards such as MT 798), we have witnessed in 2020 a shift of mindset to ensure business continuity thanks to paperless options.
Policy makers hold the key to remove the final stumbling blocks and make "paperless trade" real. Considering the various regulatory hurdles to take advantage of those "digital trade" solutions, a number of banks and banking associations have started to engage with their policy makers to advocate around the need for regulatory support.
Trade is global and in order to facilitate global coordination of those advocacy efforts, ITFA set up an expert and coordination team in place in Q2 2020 called the Technology Experts for Regulatory Action or TERA.
Let us read more to understand the 6 critical areas identified by the TERA task force for banks and technology providers to engage their policy makers on:
https://www.linkedin.com/pulse/regulatory-advocacy-around-trade-digitisation-full-swing-casterman/?trackingId=iVkdXS03Tzy8TRwfugHZWA%3D%3D