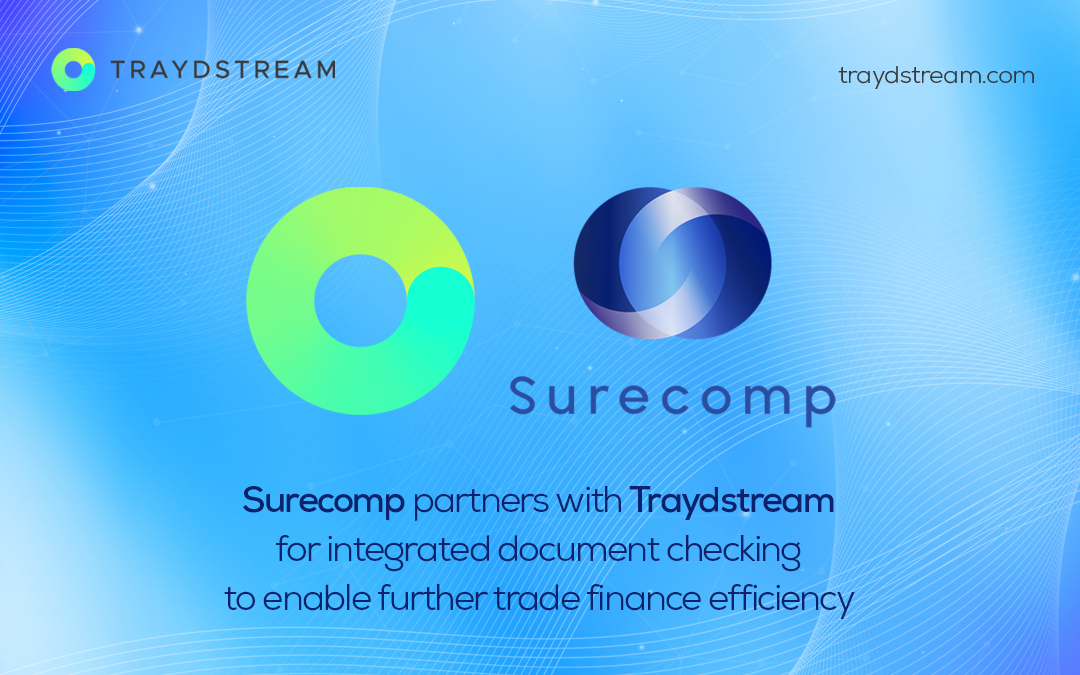 Surecomp today announced that it has finalised a partnership agreement with the London-based fintech Traydstream to integrate AI powered document checking into its collaborative trade finance platform RIVO™.
By offering an integrated solution for document checking, sanction screening, AML detection and other OCR-based compliance checks, RIVO customers will be able take a more proactive approach to trade-based risk management while further enhancing a digital, sustainable trade finance process through seamless integration between RIVO and their back-office trade finance solutions.
Traydstream identifies, extracts and interprets thousands of data attributes from over 150 common global trade document types to automatically check every detail in a Letter of Credit, Open Account and Collection document. In addition to being able to conduct over 400,000 permutations of trade rules, customers can now benefit from providing a fully digital, auditable record of their trade business for compliance and management reporting. The automated process has proven to reduce document checking times from hours to minutes, cut processing costs up to 60-70% and drastically improve accuracy by removing human error from the equation.
"Combining Surecomp's expertise in trade finance process automation built up globally over more than 30 years, with our trade innovation, both teams are benefiting from a deep understanding of what clients need from their current and future digitization landscape," said Uzair Bawany, Chief Commercial Officer at Traydstream."
"With trade-based fraud continuing to dominate the headlines, the need for transparency and risk management has never been greater," said Enno-Burghard Weitzel, Surecomp's SVP of Strategy, Digitization and Business Development. "We know that effective document checking is a critical component of a streamlined trade finance process and Surecomp customers can now significantly cut the amount of time spent on checking the multiple documents involved a trade finance www.surecomp.com [email protected] transaction, while protecting themselves against risk and loss. We have been impressed by the scale of Traydstream's operations and global client base and we are excited to be able to offer our clients such an innovative solution that uses AI powered services to further digitise and automate global trade."