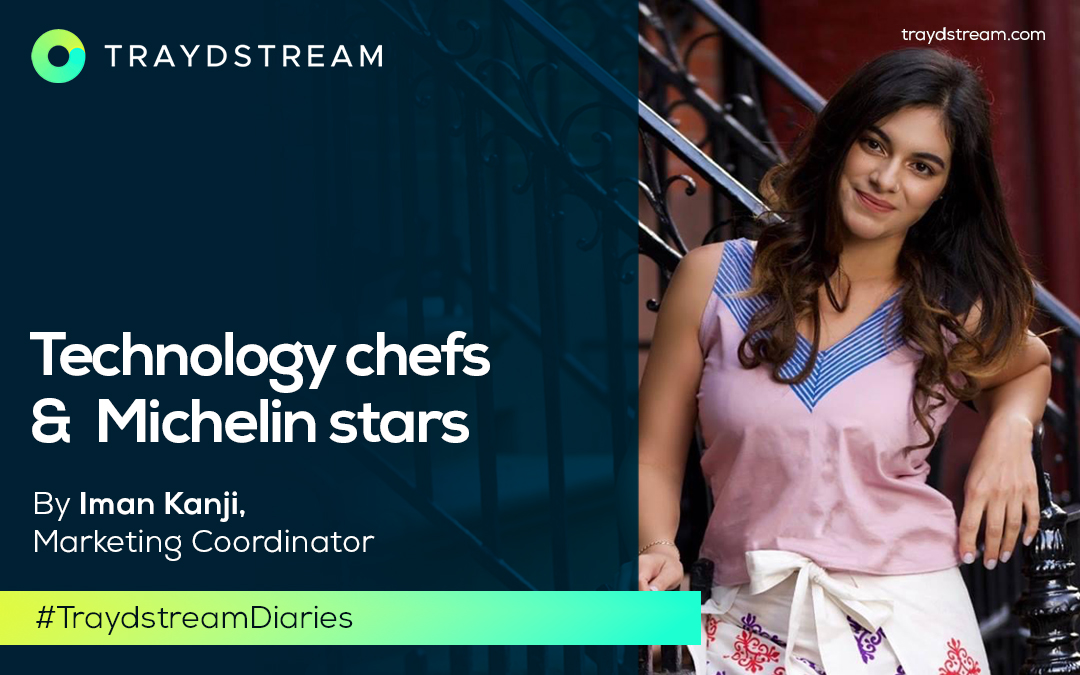 Welcome to Traydstream Diaries, where we ask our Traydstreamers to lend us their voices. 
We are peeling back the lid on who we are and what we do with this fun series. 
Get to know us, like we know us! #traydstream
Our first #traydstreamdiaries entry comes from our Marketing Team.
Interested to find out what @imankanji has to say?… Keep reading to find out!
Imagine a Michelin star restaurant: the strength of each individual chef, the unity of purpose, the diligence in execution – all to ensure that the quality in food and service maintains the exemplary standards it was awarded, to each and every diner.
People seek out Michelin star meals because they are assured quality, a one-of-a-kind experience, and a unique dish they may not have experienced before.
Though the analogy of a world-class kitchen may be a strange starting point; upon my reflection of my time spent working with Traydstream, it is an apt comparison.
I have worked across a few startups, and have lent my expertise to entities trying to break into various different industries: music, education, and environmentalism; however, I have never experienced a company with quite the ambition of Traydstream.
It is the brainchild of folks who were in finance and saw that there was a gap in the market to streamline a lengthy, tedious, yet necessary process in trade finance.
The founders are pioneers in this field, and their early start in this digitalization quest has given them a significant edge in their market. Being amongst thinkers and doers that have successfully executed their mission renders the Traydstream machine a force to be reckoned with.
I joined the Traydstream team in a marketing position – tasked with the role of bringing purpose, strategy, and structure to the Traydstream marketing machine.  I began my position entirely online (a pivot from the way I am used to working) and as I have gone around meeting the people that make up the fabric of this rich ecosystem, I have been continually wowed by the qualifications and experience of my colleagues and the way people have made an art of virtual meetings and connections .. it's truly impressive.
I connect with people every day, all over the globe. Despite our respective time differences, work gets done efficiently, and the reach of people and their connections leverages an international pool the likes of which I have not seen in a startup. Akin to how world-class restaurants employ the crème-de-la-crème chefs of the world, I can say with certainty that Traydstream employs world-class experts in their fields.
During my induction, I was informed that the three values that underpin the Traydstream way of life are: "hungry", "humble", and "hard-working". The culture that has been cultivated at Traydstream is truly a reflection of these three values. Employees that I have interviewed have expressed a similar sentiment – that they look forward to getting up and getting to work, every day. People who work at Traydstream are excited to work through a host of challenges, and continue to provide exemplary services to their customers.
Similar to an esteemed dining establishment, Traydstream provides a product that is head and shoulders above its competitors and maintains its edge by continuing to push the boundaries of its products. As I settle into the organisation (my fourth month in!) I find joy in what I do, and I enjoy being part of an international team that truly practices what it preaches!
Traydstream is the Michelin star restaurant of startups. The same strength of character and talent, unified purpose, and diligence required of chefs – is also what is required to thrive at this unique company to ensure that each client/customer is awarded that 5-star service.