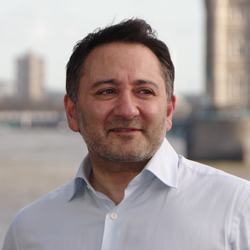 The incredible disruption to Trade Finance in just a week!
Published on March 27, 2020
Uzair Bawany – Chief Revenue Officer & Co-Founder at Traydstream
The last few weeks feel very different in the Trade Finance community to when we first started Traydstream.
In 2016, it was driven by our genuine desire to reimagine the world of a digital trade finance environment, based on the frustrations we had witnessed firsthand from our combined experiences in running trade finance processing teams across global banks.
We learned more about how new technologies, including AI and cloud computing, could be used to address specific pain points in the process and how BAU could be further optimised.
We set about building this into a platform that would support a better workflow. The goal was end-to-end increased speed, efficiency, scalability, and new levels of consistency while better managing the risks of trade rules discrepancies and compliance.
We also saw how it could lead to a positive green effect with the potential eradication of millions of copies of physical papers that banks are required to store for each transaction.
Fast forward and we are now witnessing a very different slant to the positive disruption that we had in mind when we started!
Today, our conversations with banks and corporates centre around the huge challenges that have been thrust upon them in a matter of weeks, if not days.
Suddenly shifting their entire teams to work remotely, using legacy systems and processes with informal workarounds, has had a alarming impact on the volumes of trade transactions being processed.
The resulting bottlenecks in all areas of Trade processing will adversely affect liquidity for both banks and more importantly, corporates.
Corporates worldwide may now have to wait for weeks for their documents to be processed and payments realised. The economic damage will trickle down into all industries and the impact on the future of the global trade is hugely concerning if the recent WTO stats are anything to go by.
This has led us to think really hard about what we can do to support our clients in a simple, practical and immediate manner.
We are focusing on accessibility, resilience, and easy adoption. We want to break the barriers to trade and share our learnings on how digitalization and automation can help, even in interim ways at specific points of the process, to help get transactions through the system.
There is much to do and we know there are many questions about what the end state is going to look like now, let alone what to do in the transition.
Our focus for now is to get our clients moving and address the bottlenecks that are inevitably occurring.
Trade Finance will always remain the lifeblood of every economy, and so I encourage all banks, corporates and fintechs to step forward with open minds and deploy the most innovative solutions that best work for your businesses.