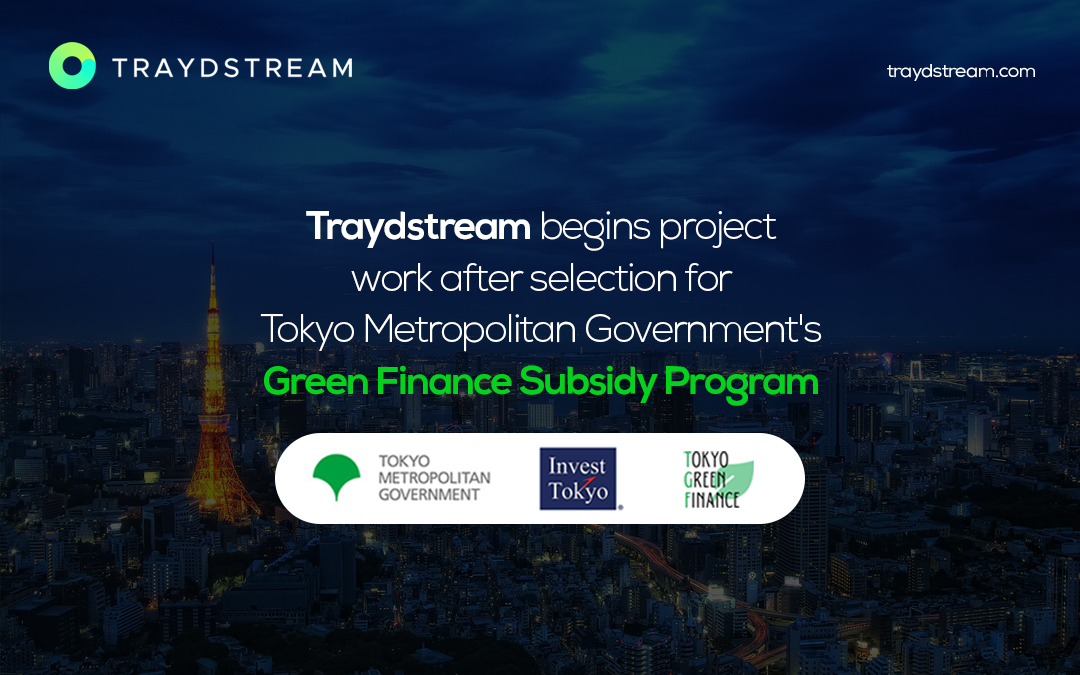 Traydstream was proud to be selected for the Tokyo Metropolitan Government's Green Finance Subsidy Program, and have started getting our operations and projects up and running  as TRAYDSTREAM Japan, Inc. from this January.

Green Finance Subsidy Program for Tokyo Market Entry Announcement of Companies to be Supported – Tokyo Metropolitan Government
Traydstream provides a SaaS platform service that automates the process of conventional paper and physical trade finance document checking, by utilizing advanced AI/ML technologies. We are excited by the take up of our solution already with a major Japanese Trading Company user, and many discussions with other exporter companies and (mega) banks that are looking to shorten the overall time of delivery of trade and improve efficiency of document checking operations.
We have further exciting plans to develop an ESG Scoring Indicator, allowing us to use trade data on the platform to enable green financing for trade related transactions and support banks to be compliant for oncoming regulatory environmental risk capital requirements.
Yutaka Izawa, Traydstream Japan Representative shares his current thoughts as follows. "I started my career banking in IT and became a banker to provide value added financial services to Japanese companies around the world. I do the same now through a smaller Fintech but with larger expanding value proposition ! "
Traydstreamは東京都グリーンファイナンス支援プログラムに選定され、今年の1月よりTraydstreamジャパン合同会社として日本において本格的に活動開始しました。
グリーンファイナンス外国企業進出支援|東京都 (tokyo.lg.jp)
 Traydstreamは貿易取引における関係書類の内容を独自OCRエンジンにてデジタル化して、貿易金融における従来の紙・目検ベースの所謂ドキュメントチェックを人工知能・機械学習技術を利用した自動チェックのサービスをSaaSにて提供しております。既に大手商社の利用実績があり、貿易における商品受取までの時間短縮とドキュメントチェック作業の効率化を目指している荷主事業法人と買取銀行(メガバンク等)と導入に向けて協議させていただいております。
更に、ESG Scoring Indicator開発して、それに弊社プラットフォームで取得しました貿易情報のデータを利用することによって、貿易金融取引におけるグリーファイナンスの提供に利用、また今後導入される銀行への新たな環境リスク資産規制等への対応支援を視野に入れています。
Traydstreamジャパン代表の伊澤 裕は現在の心情を次のように述べています。「私は大手外銀のITから銀行員として日本企業へ付加価値のあるサービスを世界で提供すること心がけて参りました。現在もっと小規模なFintechで同日本企業により大きな付加価値の提供をすべく資力を尽くす所存でございます!」