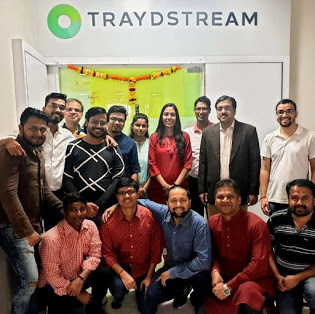 Traydstream is celebrating the expansion of its presence in India.
New office facilities in both Mumbai and Calcutta provide additional space to support the expansion its technology capabilities. Traydstream has grown significantly in the last two years with now over 75 employees worldwide and regional offices to support the growth in key markets.
"The decision to expand our presence into India was a logical step in our business growth strategy," said Jayan Menon, Country Head of India. "The area is rich with diverse talent from well-known prestigious colleges and universities, as well as high-tech companies.
We have the opportunity to further expand staffing and capabilities in our software engineering, professional services and customer support departments, as well as increase our ability to service current and future markets."
"Our growth is more than a story of surpassing product goals and signing new clients – it's a testament to the hard-working employees at Traydstream and our commitment to offering top-notch services that outpace competitors," says Varinder Dhaliwal, chief of staff. "I'm incredibly proud of the team this year, not only for the exceptional work they do, but also for the collaborative and impactful culture we have built together. We look forward to reaching new heights in 2019."