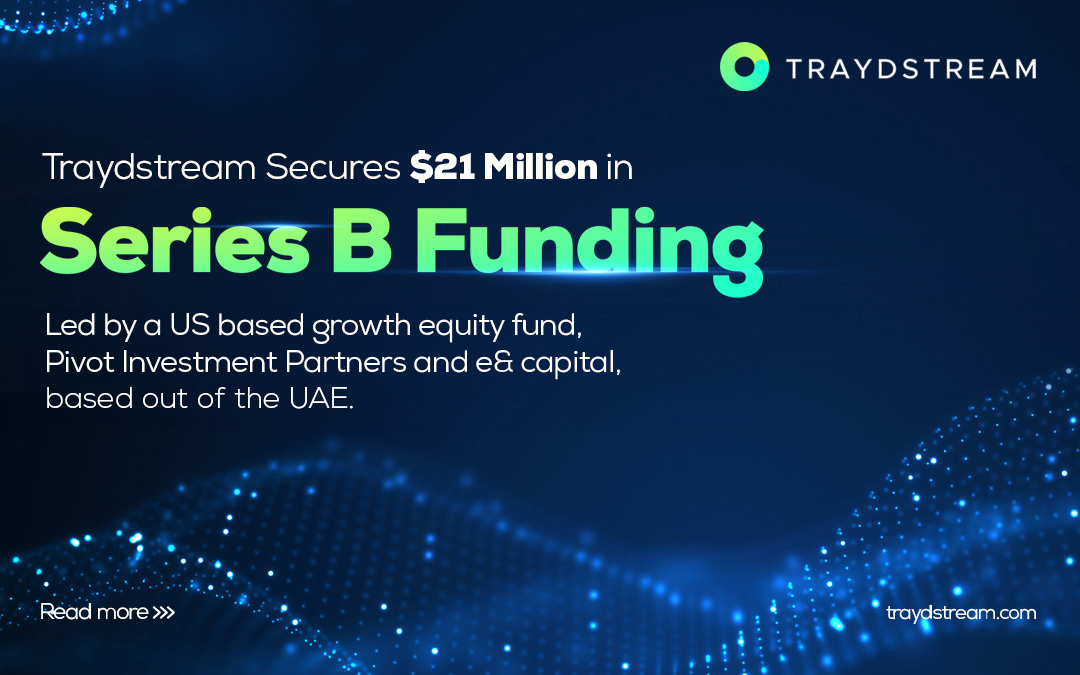 Traydstream, a pioneering fintech company at the nexus of digitising and automating the trade finance industry, today announced the successful completion of its $21 Million Series B financing round.   
Led by Pivot Investment Partners, a U.S.-based fintech investment firm, and e& capital, the investment arm of e&, this funding round will catalyse the next phase of Traydstream's growth and advance its mission to transform trade finance. It will also accelerate Traydstream's efforts at enhancing its AI-powered platform, which has already garnered acclaim for its significant impact on trade documentation scrutiny, compliance checks, and risk management. By further expanding its technology stack, Traydstream is poised to unlock new dimensions of efficiency, accuracy, and agility for its growing global clientele. 
Dinkar Jetley, Pivot's Managing Partner commented "As B2B fintech investors, we invest in high-quality management teams with deep industry expertise who bring distinctive and durable tech-enabled solutions to addressing key-critical needs.  With less than 1% of global trade occurring digitally, modernising trade finance represents a massive opportunity.  We have been greatly impressed by Traydstream's team, platform, and strong traction with clients across geographies.  We look forward to partnering with the leadership team on this exciting next phase of the company's growth, accelerating momentum and serving the needs of a fast-growing roster of clients, both banks and corporates."   
"Traydstream's commitment to driving innovation in the trade finance domain fits perfectly with our investment philosophy," said Kushal Shah, Managing Director of e& capital. "We're thrilled to join hands with Traydstream on its journey to re-define industry standards through cutting-edge technology. Trade is essential to the UAE and the Middle East, and we see a huge opportunity to be able to expand our expertise and reach, making a meaningful impact to the SMEs and corporates in the UAE and around the world." 
Sameer Sehgal, CEO of Traydstream, expressed his enthusiasm about the funding round's potential. "This Series B funding marks an important milestone in Traydstream's journey. The trade finance ecosystem is at an inflection point, and with innovative technologies, we see the power of converging capabilities to simplify the lives of all involved in trade and commerce worldwide. With the support of Pivot and e& capital, we are committed to accelerating our product innovation, extending our technology leadership, and driving fundamental shifts in how trade finance operates."  
He added: "It's a fantastic time to be part of this transformative period in the industry. As Traydstream expands, more than ever before, we remain steadfast and committed to our customers and industry partners globally." 
About Traydstream:  Traydstream is a leading provider of automated trade document scrutiny and compliance checking solutions. Our innovative platform empowers financial institutions and corporates to streamline trade finance operations, reduce risks, and enhance efficiency. With a strong commitment to driving digital transformation, Traydstream is revolutionizing the trade finance industry.  For more information, please visit https://traydstream.com.  
About Pivot Investment Partners: Pivot Investment Partners LLC is a team of CEO-level operating executives who have grown and transformed financial services businesses around the world. The firm works closely with a select set of high-potential FinTech and InsurTech companies, investing operating expertise and capital in their success and accelerated growth. For more information, please visit www.pivotinvestment.com. 
About e& capital: e& capital is the investment pillar of e& that invests in the ideas and people that will build a better and brighter digital future. It supports visionary tech businesses, helping them grow and enabling meaningful progress that moves this world forward.  e& capital invests in the start-ups that dare to disrupt and challenge the way things are, because they believe in something better. It collaborates with bold entrepreneurs to turn their big ideas into the leading businesses of tomorrow. To learn more about e& capital, please visit https://eand.com/en/capital.jsp