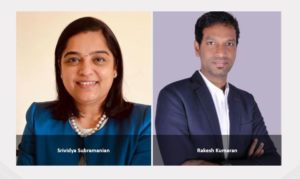 Since being part of a winning solution in the Citi MENA FinTech challenge in 2019, Traydstream has had a major focus on resolving issues, faced by the trade finance operation teams of Banks and Corporates globally.
Bolstering the senior product expertise based in the region, Traydstream adopts a strong relationship-driven approach to its business with the hire of senior banker, Srividya Subramanian as Global Lead – Sales & Origination, based in Dubai.
For over 24 years, Srividya has developed a deep network of committed leaders across the trade industry and understands the innovative trends that are revolutionising the MENAT & Indian Subcontinent region. She joins Traydstream from Emirates NBD, where she held the position of Senior Vice President – Wholesale Banking responsible for the Trade & MNC desk.
Also joining Srividya is Rakesh Kumaran who has had a successful career as a Business Development Manager in Transaction Banking in various international financial institutions, his last assignment was with Emirates NBD Bank PJSC. An alumnus of Indian Institute of Management, Calcutta, Rakesh has extensive trade finance experience and deep connectivity with Corporates and Financial Institutions. As Lead – Sales & Origination, Rakesh will spearhead efforts to develop business for Traydstream in the region.
Uzair Bawany, Chief Revenue Officer at Traydstream, notes "Our clients in MENA and the subcontinent are looking for innovative but also practical solutions for the ongoing challenges of trade document inefficiency and the increasing need for greater compliance and regulatory checks. At the end of the day, we create that right balance for our clients by taking the time to speak with them and understand how their business work."
"I am thrilled to be joining the sales and origination efforts for Traydstream as they augment their global footprint" says Srividya. "You don't often come across solutions that so closely meet the needs of the industry and it is fulfilling to work with clients, so the whole ecosystem of trade continues to digitise and thrive."