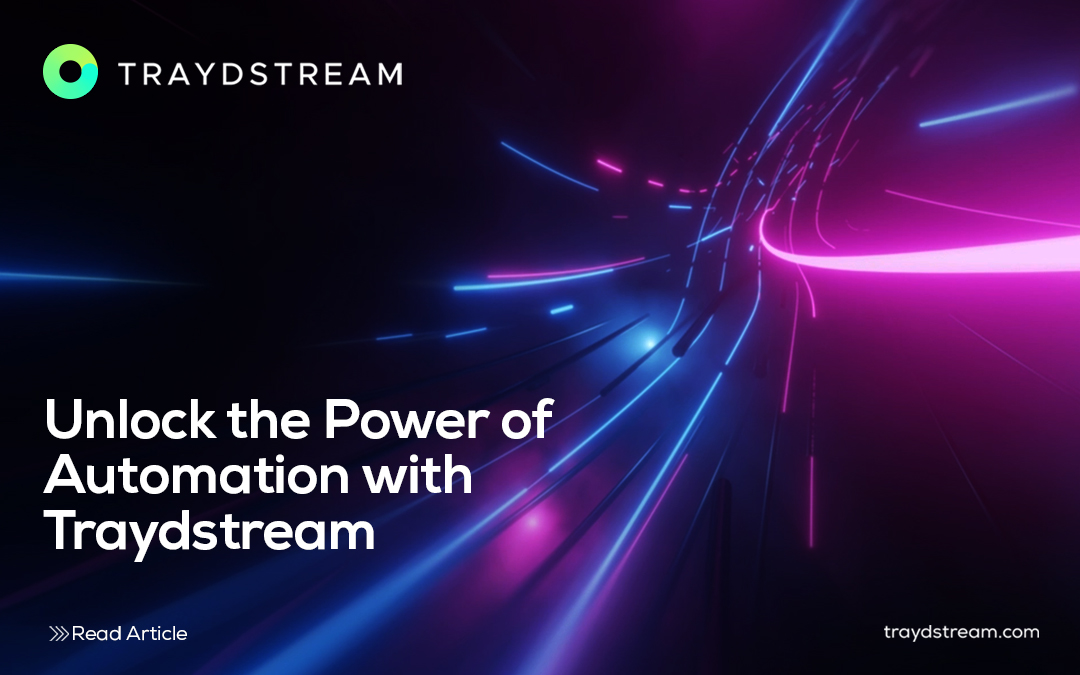 At Traydstream, our ethos is to drive the trade finance industry forward, utilizing technology to bring it into the 21st century. We believe that by embracing ML technology, the trade finance community can benefit from a more efficient and secure trade finance process, while also gaining valuable insights that can help them make better business decisions.  
Our ML solution provides clients with valuable insights. By analyzing large amounts of trade finance transactions, our platform has been developed to have a consistent, best in class method of identifying discrepancies and risks, which can help exporters make more informed decisions and ultimately improve efficiency and reduce costs. 
As the needs of the industry shift, the mechanisms to enable the change needed play increasingly important roles. A recent article on GTR1 reinforces this idea.  
The article discusses the need for trade finance to evolve and adapt to the new economic landscape. As global trade continues to grow, traditional trade finance processes are becoming outdated and creating inefficiencies that negatively impact businesses. To address these challenges, the article proposes a reimagination of trade finance through digital transformation. 
"With the rise of e-commerce and new business models, opportunities for stronger, more inclusive, and sustainable growth abound. The future of trade is taking shape, and embedding the finance that supports it into the new economy in collaboration with digital marketplaces, platform technology providers and fintechs will enable everyone – from the largest multinational to the smallest merchant – to take part." 
The benefits of digital transformation in trade finance are numerous, including reduced risk, increased transparency, and improved efficiency. By leveraging technologies such as artificial intelligence and machine learning, trade finance can streamline processes, reduce errors, and accelerate transactions. This, in turn, enables businesses to access capital faster and more easily, ultimately driving economic growth. 
Traydstream is leading the way in this transformation, offering innovative solutions to the challenges of traditional trade finance processes. By embracing these solutions, businesses can benefit from increased efficiency, reduced risk, and reduced capital cost requirements, ultimately driving growth and prosperity. Want to know how? Check out some specific examples below. 
Traydstream's trade finance platform offers several features that can help reduce the costs, complexities, and risk of trade finance operations: 
Compliance aggregator: Traydstream's compliance aggregator can help consolidate compliance data from multiple sources, providing a comprehensive view of compliance risks and issues across a range of trade finance transactions.

 

Digital submissions platform: Traydstream's digital submissions module allows for the secure and efficient submission of trade finance documents, reducing the time and resources required to manage and process these documents.

 

OCR scanning: Traydstream's OCR scanning technology can help automate the capture and processing of trade finance documents, reducing the need for manual data entry and improving accuracy.

 

Rules engine: Traydstream's rules engine can help automate the validation and checking of trade finance documents against international trade rules and regulations, reducing the risk of errors and compliance issues.

 
By combining these features, Traydstream's platform can help streamline and simplify the trade finance process, reducing costs and complexities for exporters, importers, and banks. The platform can also help mitigate risk by ensuring compliance with international trade rules and regulations, reducing the risk of fines, delays, or other issues that could impact trade finance transactions- in a world that calls for increasing transparency and clarity. 
By Trade Experts for Trade Experts