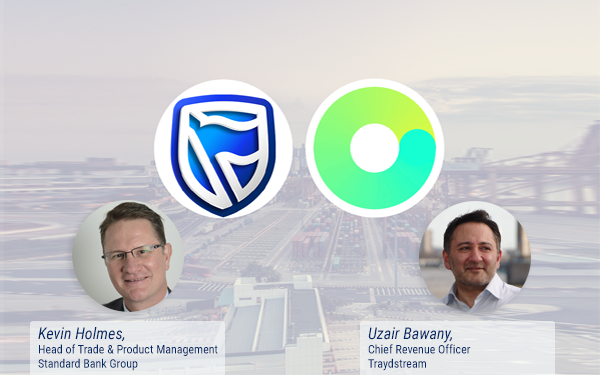 Stanbic Bank Uganda (SBU) and Traydstream Ltd have signed an agreement to implement the Traydstream platform at SBU. This platform is intended to digitize the current manual process of vetting Letters of Credit for Discrepencies. The trade document processing conducted over the past few months proved the dramatic improvement the Traydstream platform brings to SBU's processing, turnaround and end-to-end trade capabilities.
SBU is Uganda's largest commercial bank by assets and branch network, with majority ownership by Standard Bank Group Limited. With world trade volume outperforming the growth rate of the global economy, SBU is actively expanding their footprint in cross border trade through better ways of working and leading the way with technological solutions.
Kevin Holmes, Head of Trade & Product Management for Standard Bank Group noted, "Traydstream's one stop shop for processing enables SBU to speed up processing time, mitigate risk with thorough trade checks as well as improve the transparency of transactions through an aggregated compliance module. We are proud to be investing in next gen technology solutions that minimize repetitive tasks for greater human contribution to achieve real scale. The platform opens up exciting and innovative new options for us to grow and service our customers."
"SBU has been a wonderful partner with a hunger to change the industry and actively lead a shift away from manual, error-prone processes to automated and value-added work. They have a fantastic team, experienced and leading with a deep client focus. We are delighted to be working with SBU and look forward to expanding pan Africa for the group" said Uzair Bawany, Chief Revenue Officer, Traydstream.
About Stanbic Bank Uganda
Stanbic Bank Uganda is a member of the Standard Bank Group, Africa's largest bank by assets. Standard Bank Group reported total assets of R2.1 trillion ($148 billion) as at 31 December 2018, while its market capitalization was at R289 billion ($20 billion).
The group has direct, on-the-ground representation in 20 African countries. Standard Bank Group has 1,221 branches and 8,815 ATMs in Africa, making it one of the largest banking networks on the continent. It provides global connections backed by deep insights into the countries where it operates. Stanbic Bank Uganda provides the full spectrum of financial services. Its Corporate & Investment Banking division serves a wide range of requirements for banking, finance, trading, investment, risk management and advisory services. Corporate & Investment Banking delivers this comprehensive range of products and services relating to: investment banking; global markets; and global transactional products and services.
Stanbic Bank Uganda personal & business banking unit offers banking and other financial services to individuals and small-to-medium enterprises. This unit serves the increasing need among Africa's small business and individual customers for banking products that can meet their shifting expectations and growing wealth. For further information go to www.stanbicbank.co.ug